ZYNTEGLO® is a one-time gene therapy that addresses beta-thalassemia at the genetic level
ZYNTEGLO uses your own blood stem cells to treat beta-thalassemia
Blood stem cells are collected from your body
ZYNTEGLO is made specifically for you using your own cells
Once collected, your blood stem cells are sent to a lab to begin manufacturing
ZYNTEGLO is manufactured by adding working copies of the beta-globin gene to your collected cells
The working gene is added to your collected blood stem cells with help from a vector outside of your body
Your modified stem cells (ZYNTEGLO) are returned to your body through an intravenous (IV) infusion
Blood stem cells move through your bloodstream to your bone marrow
These blood stem cells then produce new blood stem cells in a process called engraftment
New red blood cells are produced containing functional adult hemoglobin
New cells contain working copies of the beta-globin gene leading to the production of functional adult hemoglobin
What is a vector?
A vector is like an envelope that delivers the working copies of the gene directly to the "address" of your blood stem cells

ZYNTEGLO uses a type of vector called a lentiviral vector (LVV). The LVV uses HIV's natural ability to deliver genes into a cell but does not include the genes that cause HIV infection

The LVV is built using only the parts of HIV that are good at delivering the working copies of the beta-globin gene to your stem cells

The working copies of the modified beta-globin gene are delivered by the vector directly into your blood stem cells
Important Considerations
Although ZYNTEGLO will not give you HIV infection, treatment with ZYNTEGLO may cause a false-positive HIV test result by some commercial tests. If you need to have an HIV test, talk with your doctor about the appropriate test to use.
HIV = human immunodeficiency virus.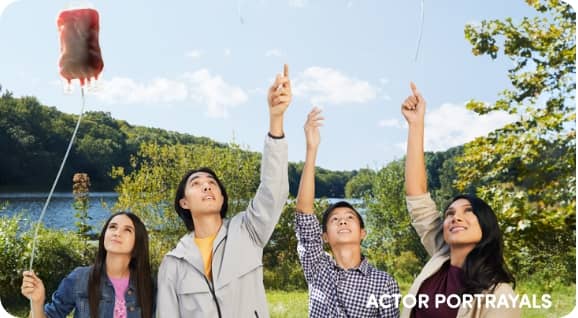 Talk with your doctor about ZYNTEGLO
See conversation starters
for your healthcare team
Learn More