The Treatment Journey
Here's an overview of what treatment pathway with ZYNTEGLO® could look like. It's important to keep in mind that these time frames are meant as an approximate guideline. Your journey may look different depending on the circumstances unique to you and the QTC.
Pre-Treatment
~11 to 14 weeks (stem cell mobilization through manufacturing)
At Doctor's Office
Consultation

Doctor and
patients discuss
ZYNTEGLO
At QTC

*These steps may need to be repeated to collect enough blood stem cells. Apheresis can start on Day 5.
Waiting at Home

Cell Collection (
~

1 week)
Mobilization takes place over 5–6 days. Apheresis, or cell collection, is done on day 5 and day 6 (day 6 as needed)
To begin, you go through

mobilization

, which is where you receive a medication that moves your stem cells into your blood stream
Once your blood stem cells are in your bloodstream, they will need to be separated from the rest of your blood before being collected
Collection of your stem cells is called apheresis, a process that uses a machine to collect your blood stem cells and return the rest of your blood to your body; this mobilization and apheresis may be repeated to ensure enough cells are collected

Back-up "rescue" cells are collected in case stem cells or ZYNTEGLO is compromised or there's engraftment issues. If engraftment issues occur, your rescue cells will be given back to you, which means you will have no benefit from ZYNTEGLO
Cell Manufacturing (
~

70–90 days, waiting at home)
Once collected, your blood stem cells are sent to a manufacturing site where all your collected cells are used to make ZYNTEGLO. This process takes about 70–90 days, but the time may vary
At QTC
Chemotherapy


to Prep for
ZYNTEGLO
†Number of bags vary by patient, but
patients in trials received 1 to 4 bags.
Chemotherapy (4 days minimum, with at least 2 rest days)
At least 6 days before you receive ZYNTEGLO, you will be admitted into the QTC
Once you are admitted to the QTC, you undergo a 4-day course of conditioning with chemotherapy, which is used to clear out the cells in your bone marrow to make room for ZYNTEGLO cells
After chemotherapy, you need at least 2 days of rest at the QTC before you receive ZYNTEGLO
Please note that following chemotherapy, it may not be possible for you to become pregnant or conceive a child. You may wish to consider discussing options for fertility preservation with your doctor before deciding to proceed with ZYNTEGLO
ZYNTEGLO Infusion and Recovery (
~

3–6 weeks)
Once your doctor determines that your body is ready, you receive ZYNTEGLO through an IV infusion for ~30 minutes per bag

The number of bags vary by patient. ZYNTEGLO is supplied in up to four infusion bags containing a frozen suspension of genetically modified autologous cells, enriched for CD34+ cells

You stay in the QTC after receiving ZYNTEGLO for about 3 to 6 weeks so that your doctors can monitor your recovery; during this time, your doctors will be:

Monitoring your immune system as it recovers
Checking that ZYNTEGLO is moving through your bone marrow and begins to multiply and develop into healthy new blood cells (engraftment)
Observing neutrophil (white blood cell) and platelet levels before you can return home
Addressing any side effects that you may experience

Engraftment may be delayed or may not occur after treatment with ZYNTEGLO
Talk to your healthcare provider about side effects that may occur with mobilization, apheresis, and chemotherapy. It's important to talk to your healthcare provider about the risks and benefits of all medicines involved in your treatment.
Post-Treatment
AT LEAST 15 YEARS
At home and at doctor's office
Doctor's discretion
(unique to each
patient)

Doctor assesses
health status of
enrolled patients
treated with
ZYNTEGLO
Follow-Up Care
Following your treatment with ZYNTEGLO, make sure to work with your QTC team, along with your regular healthcare provider to establish a long-term follow-up plan and monitoring
The QTC may require you to return for follow-up care at their center within a certain period of time
It is important that you have regular check-ups with your healthcare provider, including at least annual blood tests, to detect any adverse effects and to confirm that ZYNTEGLO is still working
Treatment with ZYNTEGLO may cause a false-positive human immunodeficiency virus (HIV) test result by some commercial tests. If you need to have an HIV test, talk with your HCP about the appropriate test to use
It is important for you to be monitored at least yearly for at least 15 years for any changes to your blood. There is a potential risk of blood cancer associated with this treatment. However, no cases have been seen in studies of ZYNTEGLO. If you are diagnosed with a cancer, have your treating physician contact bluebird bio at 1-833-999-NEST (6378)
Registry Participation
In addition, your QTC team will offer you participation in a 15-year registry study. The US FDA recommends long-term follow-up for patients treated with gene therapy
The ZYNTEGLO registry is a study that collects health outcome data over time about long-term safety and effectiveness with ZYNTEGLO
Your participation in the registry is voluntary. Ongoing research for gene therapy, like the registry study, may benefit future patients who may consider treatment with ZYNTEGLO and contributes to understanding of the effects of ZYNTEGLO
To learn more, speak with your primary doctor at a QTC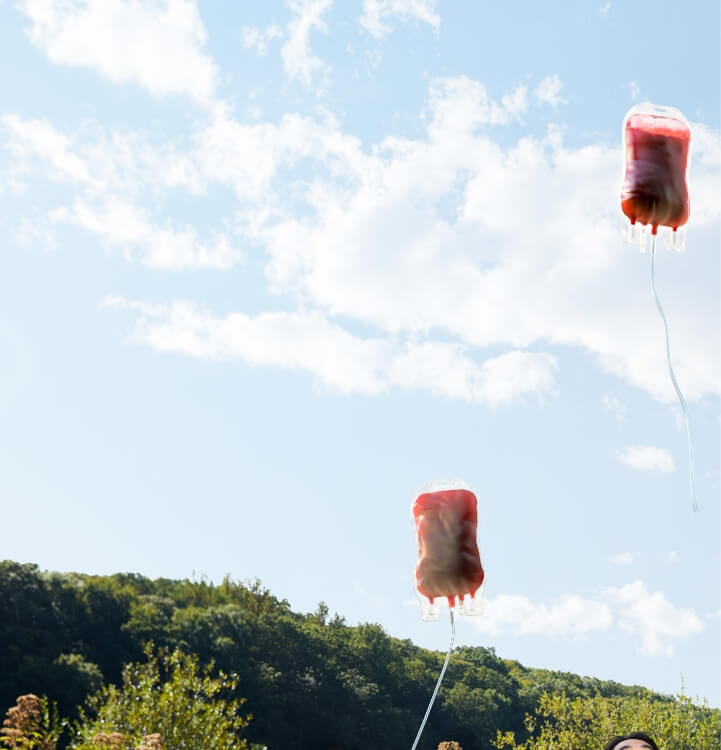 Questions on treatment journey?